Here is a few foundation tips that I find most people might miss. I decided to put together this infographic so that I could put together these points in a nice format! I hope you all like it and find it useful! Feel free to download it, print it, and post it on your wall for quick reference!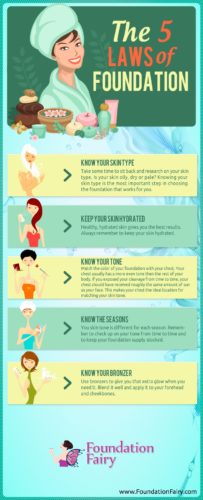 In case the image doesn't display on your browser, here are The 5 Laws Of Foundation:
1) Know Your Skin Type – Take some time to sit back and research on your skin type. Is your skin oily, dry or pale? Knowing your skin type is the most important step in choosing the foundation that works for you.
2) Keep Your Skin Hydrated – Healthy, hydrated skin gives you the best results. Always remember to keep your skin hydrated.
3) Know Your Tone – Match the color of your foundation with your chest. Your chest usually has a more even tone then the rest of your body. If you exposed your cleavage from time to time, your chest should have received roughly the same amount of sun as your face. This makes your chest the ideal location for matching your skin tone.
4) Know The Seasons – You skin tone is different for each season. Remember to check up on your tone from time to time and to keep your foundation supply stocked.
5) Know your Bronzer – Use bronzers to give you that extra glow when you need it. Blend it well and apply it to your forehead and cheekbones.
Hope you found these simple rules useful!